EmiClare™
EMI, EMC Mesh Windows and Screens
Seeing is believing
EmiClare EMI, EMC mesh windows and displays are available in 5 different product ranges. Emiclare emi display mesh gives the highest EMC, EMI, RFI shielding attenuation combined with the best levels of optical transparency. A list of laminated screen filters are below.
Emiclare Micromesh EMI High Transparency Display window (highest transparent mesh window on the market)
EmiClare Polycarbonate EMI laminated polycarbonate window
EmiClare Glass EMI laminated glass window
Emiclare Ultra Custom made EMI window, polycarbonate or glass
EmiClare PDP EMI mesh window for Plasma Displays
EmiClare H EMI heater window
EmiClare CPOL EMI Circular Polariser window
Emiclare Solo Ultra thin emi mesh window
Emiclare Lasermesh EMI Film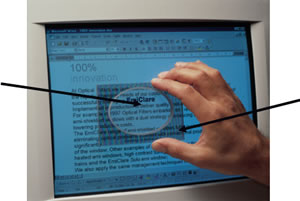 EmiClare is a new generation of emi-shielded window optimised for total performance.
Click here to view OPTICAL TRANSMISSION data or Click here to view EMI shielding effectiveness
Eliminates optical interference (Moiré fringing patterns)
Offers high light transmission to preserve the clarity of your display
Provides highly efficient, broad band emi shielding performance
The copper based EmiClare mesh is treated using a proprietary, highly conductive blackening process with a conductivity of less than 100 milliohms per square.
Conventional blackening finishes are achieved by a chemical process that forms a black copper or silver oxide on the surface of the mesh. These oxide coatings are inherently non-conductive so the effective termination of the mesh is dependent on breaking through the coating and contacting the metal of the mesh. Visiontek System's blackening process provides a reliable termination by eliminating the risk factor involved with conventional finishes.
This unique range includes the following laminated windows:
| | |
| --- | --- |
| EmiClare Polycarbonate | A general purpose polycarbonate window with light transmission greater than 76%. |
| EmiClare Glass | A laminated glass window with emi-shielding offering a light transmission greater than 76%. |
| EmiClare PDP | The most effective solution for shielding plasma displays. |
| EmiClare H | Visiontek System's solution to temperature dependant LCDs, incorporating a heater circuit for defrosting and maintaining the LCD at an effective operating temperature. |
| EmiClare CPOL | A glass or polycarbonate emi shielded window incorporating a circular polariser for sunlight readability. |
We also supply the mesh seperately, click here for info