EmiClare Ultra are custom built EMC mesh windows designed to match customer specifications or the requirements of a specific application.The custom Ultra solution covers a full range of substrates, sizes, termination methods and additional features including heating, contrast enhancement & touch screens.
In cross section EmiClare Ultra could include all of these elements in just one window.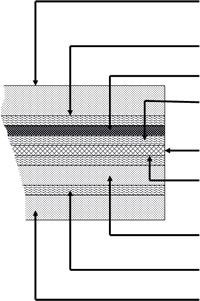 Anti Reflective coated glass
Adhesive
Circular polariser
Adhesive
EmiClare mesh
Adhesive
NVIS night vision goggle filter
Adhesive
ThermoClare Transparent Heater
Termination options
EmiClare Ultra windows are made to order and can be supplied with the following termination options.
Extended mesh
Allowing direct clamping of the mesh
Extended mesh & gasket
For a more control and rugged integration
Silver busbar
Highly conductive painted finish
Window dimensions

EmiClare Ultra can be made from a very small single LED's size up to the very large sizes often used on public information displays or shielded rooms. Common dimensions are linked to the typically display sizes like 6.4", 10.4", 12.1", 15", 15", 17", 24," etc...
Substrates Options
Glass

| | |
| --- | --- |
| | Glass is more cost effective per sq meter than plastic and is a superior optical material. |
| | With optional surface finishes of Non-Glare dispersive etch or Multi-layer Anti- reflective coating. |
| | Glass is strengthened due to the lamination process but can also be further improved with chemical toughening. |

Polycarbonate

| | |
| --- | --- |
| | Polycarbonate is stronger and lighter than glass and is supplied with either a clear hard coating for its chemical resistance and surface hardness or a matte non-glare finish to control surface reflections. |
| | An Anti-reflective polycarbonate with anti-finger print coating is also available. |
Extra functions and filters
| | |
| --- | --- |
| | Louvre light control film for privacy or contrast enhancement. |
| | Linear and circular polariser from Optical Filters range of XP technical polarisers |
| | NVIS night vision goggle compatibility filters. |
| | NIR blocking film for the control of solar radiation. |
| | ThermoClare transparent heater for de-frosting and anti- misting. |
| | Touch enabled front surface with the addition of resistive, capacitive or infra-red touch screen solutions. |