Laminated Windows and Displays
There are 7 main product groups for laminated windows and displays. A list of laminated screen filters are below.
Emi/Rfi Shielding EMC Windows Security Screens Contrast Enhancement Filters
Privacy Filters Polarizers Infra-Red Band Pass Filters
A fully laminated window consists of two outer substrates with a sandwich construction of alternating layers of adhesive and other elements such as mesh and optical films.
Following the assembly of the adhesive and substrate in a clean room the window are subjected to a heat and pressure process in an autoclave.

The optically matched adhesive layer provides a fully laminated structure in which the entire surface between layers is bonded. There is no limit to the number of layers or materials that you can incorporate into a laminated window, providing they are optically and mechanically compatible.
The adhesive layers used on laminated windows are 0.38mm or 25mm thick.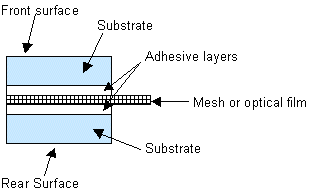 Dimensions
Substrate
Min. Laminate thickness
Max. Laminate Size

---

Glass
1.7mm
950 x 1500mm
Polycarbonate
1.2 - 1.6mm
950 x 1500mm
Acrylic
1.2 - 1.6mm
850 x 850mm

---
Substrates
Fully laminated windows allow a wide range of substrates. The standard options are:
Glass
Polycarbonate
Acrylic
The appropriate substrate is selected by matching substrate properties to end-use requirements and cost.
Adhesives
The adhesive layers are 0.38mm or 0.25mm thick. At least one layer is required between each solid component in the laminate.
The operating and storage temperature envelope is -40 to +75°C. Short term exposure to temperatures from -50 to +85°C can be tolerated