EMC RFI shielding - Laminated Window & Display
EMC RFI shielding of a display filter screen or window can be achieved by incorporating either a conductive coating or a metal mesh layer in the window. Both options must be grounded to the frame of the device to give an effective emc display shield. High levels of emc attenuation can be acheived using EMI mesh laminates.
We also supply the EMI mesh seperately, click here for info

The attached diagram illustrates the basic design: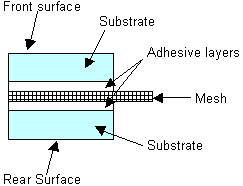 Dimensions
Substrate
Min. Laminate thickness
Max. Laminate Size

---

Glass
1.7mm
950 x 1500mm
Polycarbonate
1.2 - 1.6mm
950 x 1500mm
Acrylic
1.2 - 1.6mm
850 x 850mm

---
Surface finish
It is important to select the most suitable surface finish for each application.
Emi/rfi shielding element
There are a variety of mesh types and conductive coatings that are specified for emc shielded windows.
Meshes are traditionally specified in terms of material, wire treatment, count (opi) and thickness. These meshes are usually made from stainless steel or copper wires that can then be coated and blackened to prevent surface reflections.
VisionTek Systems offers EmiClare™, a new generation of emi windows using a mesh that has been specifically designed for shielding displays. This mesh provides high levels of emi/rfi shielding whilst preserving the brightness and clarity of the display. These windows do away with complicated and unnecessary specification of wire count (opi), thickness and treatment. You simply need to specify EmiClare mesh and the angle of the mesh that you require. Click here for emi/rfi shielding performance information.
Standard conductive coatings are ITO (indium tin oxide) with about 15 ohms/square and AgF8 with 8 ohms/square.
Termination Methods for emi shielded windows
There are several forms of termination in use for shielded windows. Detailed here are those methods that are cost effective and have proven, with over eleven years of applications experience, to provide an efficient termination.
Mesh extensions can be specified for glass and plastic windows. If properly installed into the aperture they yield a higher rf attenuation than a busbar / gasket combination. This edge form is recommended for large format windows and low frequency applications.
Square edge with a mesh extension
Step edge with a mesh extension

Machined Edges, Busbar and Gasket

The laminate build and the step profile must be co-ordinated to ensure that the step finishes in a substrate

The busbar must include the face that sections the mesh. Depending on the termination required it could be extended over one or both surfaces of the window.

If a gasket is used, the step depth should be designed to allow for the correct compression of the gasket

On compression the conductive surface of the gasket should maximise contact area with the busbar.

Termination methods for mesh extension windows

The most effective termination is to clamp the mesh extension to the enclosure. This can be done for windows with either a step or a square edge. This termination is not possible with the new generation ultra-fine meshes.
An effective compression gasket can be formed by taking the mesh over a compression gasket material such as neoprene.
A mesh extension can be combined with a silver busbar and a conductive compression gasket. Unless there is a special gasket requirement, this termination is not recommended on the basis of cost. It is effective if a combination gasket is required to give both an environmental and rfi seal.
For large windows such as rack enclosure doors, a cost effective option is to cut the mesh extension close to the edge of the window and finish it with a conductive tape carried over to both faces of the window. This is preferable to a simple mesh extension, which from our experience, is often torn when handling large windows.

Termination of conductive coatings

A conductive coating can be terminated by a conductive tape which contacts the coating. This can be carried to the front face of the window if required. For applications where the conductive coating might be subject to environmental damage, it can be laminated to the inside of the window and either exposed on the edge of a step or by using a silver busbar wrapped from the conductive surface onto the rear surface prior to lamination
Handling
All filters are packaged with a protective foil on both sides or wrapped in tissue. We recommend that the filters are stored like this.
For all filters, try to limit the number of occasions the filter is handled as this can easily damage it. A few important hints are listed hereunder:
Handle filters by holding at the edges
Do not remove the protective foil until final installation of the filter. Inspect the filter by holding it at the edges and peeling back the foil halfway. Replace the foil and then repeat for the other half of the filter.
Inspection should be carried out in a clean, dust-free environment. Always use lint free wipes or dry compressed air.
Always ensure that the filter is placed on a clean, dust-free surface.
Handling techniques for specific materials
Plain glass - Clean with a cloth or a tissue. Use any glass cleaner
ITO coated glass - Do not touch the surface as it is very soft. Do not use any cleaning fluids. Dust can be removed by blowing with clean air.
MLAR coatings - Do not touch as fingerprints are made highly visible by low reflection properties. Clean with a glass cleaner and rub gently with a clean cloth. Take a second cloth to remove all traces of the cleaner and to polish.
Acrylic - clean with IPA and a clean lint free cloth
Polycarbonate - Surface dust can be removed with compressed air. Hard coated and non-glare polycarbonate can be cleaned with a dry cloth. Do not use any alcohol based cleaners.
Polyester - Clean with IPA and a clean cloth. AgF8 coated polyester should be handled as for ITO coatings.