VISAR – Anti Reflection, AR, Coating on Acrylic PMMA
VISAR 01 Acrylic is a multi-layer anti reflection, AR, coating produced by vacuum deposition. It is available on sheet acrylic, from 0.5mm to 8.0mm thick. It is also available as a one sided or two sided coated acrylic sheet.
Visiontek Systems is one of the leading manufacturers of sunlight readable PMMA + Anti-Smudge (AFP) coated acrylic, and is highly regarded for its quality products. Our company offers a range of AR coated products that are of a high quality at very affordable prices. We also provide custom solutions for our customers
The VISAR 01 coating, like all multi-layer coatings, is susceptible to finger marking so it is recommended that users select the option of an anti fingerprint layer (AS) on the front surface. This hydrophobic layer has no significant effect on the optical performance but improves resistance to finger marking significantly.
Function
The sunlight readable function or AR coating comforts the working eyes, and the AFP (Anti-Fingerprint) coating prevents contamination from human contact. This product has been created for both industrial and consumer displays
Product Structure
<![if !vml]>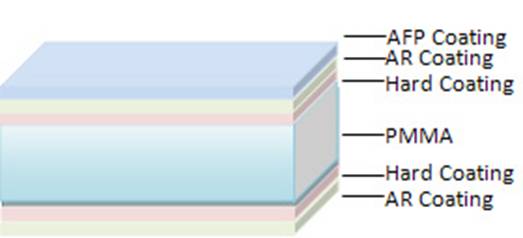 <![endif]>
Features Include
1. Dirt and fingerprints are easily removed
2. Anti Smudge coating makes water contact angle above 110 degree
3. Optical grade PMMA with a vapour deposited coating
4. High transparency and low reflection from both sides
5. Close to neutral AR coating colour
6. 440 to 640nm reflection under 0.5%
7. 300 to 700nm reflection under 2%
8. Total transparency higher than 98% within whole view area
9. Anti-scratch, abrasion resistance
Characteristics
Characteristics

Method

Result

OPTICAL

Transparency

JISK7105

92%

Reflection

JISK7105

0.5%

MECHANICAL

Hardness

Pencil Hardness

6H

Abrasion resistance

Steel wool, 1.5kgf, 50 times

Scratch line few

Adhesion (initial)

Cross cut test

100/100

Impact Strength

DIN 53453

4kJ/m2

ENVIRONMENT

Humidity Resistance

60 degree C, 95% humidity

Up to 1000 hrs

Heat Resistance

80 degree C

Up to 1000 hrs

Heat Impact Resistance

-30 degree C & 80 degree C

Up to 500 times
Standard Size Sheet Dimensions
Sizes 275 x 360mm, 300 x 380mm, 385 x 500mm, 420 x 530mm, 430 x 630mm and 600 x 1000mm
Thicknesses 0.5mm, 0.65mm, 0.8mm, 1.0mm, 1.5mm, 2.0mm, 3.0mm, 4.0mm, 5.0mm, 6.0mm, 8.0mm
Anti-Reflective Spectrum
<![if !vml]>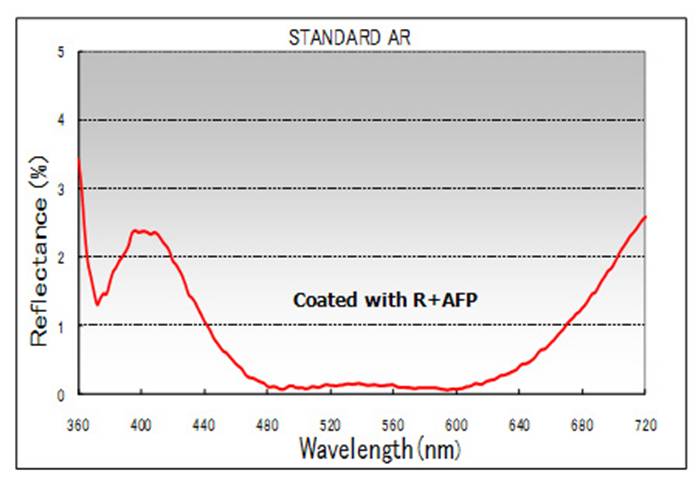 <![endif]>
Other products available in the VISAR AR range are:
VISAR 02 AR Acrylic For Large Displays
AR Anti Reflective Coated Glass