VISAR – Anti Reflection, AR, Coating on Acrylic PMMA

VISAR 01 Acrylic is a multi-layer anti reflection, AR, coating produced by vacuum deposition. It is available on sheet acrylic, from 0.5mm to 8.0mm thick. It is also available as a one sided or two sided coated acrylic sheet.

Because of the chemical and physical characteristics of acrylic, it is necessary to support the VISAR 01 coating by interposing a 7 to 10 micron thick hard coated layer.

This gives the acrylic a more physical durability.

The VISAR 01 coating, like all multi-layer coatings, is susceptible to finger marking so it is recommended that users select the option of an anti fingerprint layer (AS) on the front surface. This hydrophobic layer has no significant effect on the optical performance but improves resistance to finger marking significantly.

A section through a preferred VISAR product is shown below.
| | |
| --- | --- |
| | ¬ AS Layer (optional) |
| | ¬ VISAR 01 AR Layer |
| | ¬ Hard Coated Layer |
| | ¬ Acrylic |
| | ¬ Hard Coated Layer |
| | ¬ VISAR 01 AR Layer |
VISAR 01 sheet is supplied with a peel-able protective film on both surfaces. VISAR 01 coated sheets are available in sizes up to 600 x 1000mm or as machined display screens fabricated to drawing.
The spectral reflectivity over UV, visible and Near Infrared wavelengths is illustrated below.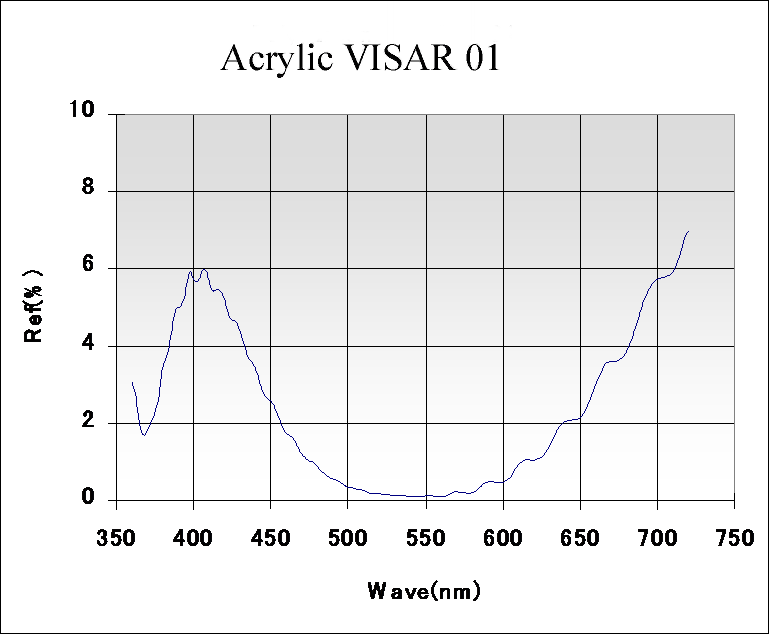 Product Availability
Please note that both VISAR 01 Polycarbonate and VISAR 01 Acrylic are available with either one or two sided AR coated.
| | | |
| --- | --- | --- |
| Product | Maximum Size | Thickness |
| VISAR 01 Polycarbonate | 385 x 500mm | 0.5mm to 5mm |
| VISAR 01 Acrylic | 385 x 500mm | 0.5mm to 8mm |
| VISAR 02 Acrylic | 385 x 500mm | 2mm to 5mm |
Other products available in the VISAR AR range are:
VISAR 02 AR Acrylic For Large Displays
AR Anti Reflective Coated Glass