HNCP Circular Polarizing Filter
Circular polarizers
HNCP Circular polarisers are highly effective at eliminating "wash out" caused by ambient light reflected from the display. Available standards are HNCP37 and HNCP42. Please click here for a table of our full range of circular polarizers.
Circular polarizers modify ambient light as it passes through the filter and traps the mirror image on reflection from the surface of the display. The signal from the display is allowed to pass through the filter and appears as a bright image against a dark background.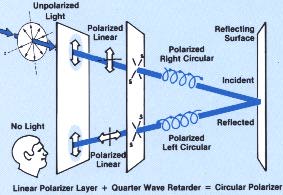 Circular polarizers are available in plastic laminations of 0.25, 0.76, 1.83 and 3.3mm thickness. Glass laminates are also available in various thickness from 3.0mm.
Typical display types where circular polarizers are used include LED's, CRT's, electro luminescent, vacuum fluorescent and LCD.

The idea sunlight readability solution is achieved when a circular polarizer is combined with an anti-reflective or non-glare surface finish. Visiontek Systems use dry film lamination process to manufacture these custom solutions in glass and plastics.

HNCP 37 and HNCP 42
Visiontek Systems can continue to offer Polaroid HNCP37 circular polarizer.

Neutral in colour the designation 37 refer to the approximate single pass light transmission at 550nm.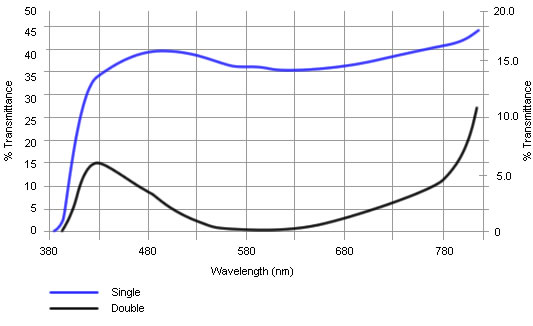 Specifications
Single transmission av
42.0 (450-800nm)
Double transmission av
0.01 (560nm)
Polarizing efficiency av
> 99.8 (450-800nm)
Durability
Heat 70° x 240h
Humidity 40° x 90% RH x 240h
Standard sheet size
up to 600 x 500mm
Glass laminated filters
3.2mm thickness upwards and in sizes up to 475 x 1270mm
Surface finish options
Non-glare and anti-reflective coating on glass laminations.
Please contact us for details on the custom laminations in glass or plastic and the supply of precision cut filters.
Also available, HNCP10, HNCP42 and a range of coloured polarizers. Please click here for a table of our full range of circular polarizers.
Polarizers can be laminated to glass or plastics to enhance the impact resistance or to add further features such as anti-reflective surface finishes or emi shielding.
Contrast Enhancement filter
EmiClare CPOL
Also available, linear polarisers
VisionTek Systems Ltd.
1 The Acorns
Upton
Chester
Cheshire CH2 1JL
United Kingdom
Tel : 44 (0) 1244 370203
Fax : 44 (0) 1244 241241
e-mail: visiontek.sales@gmail.com