Standard ITO Glass 4 ohms per square and 12 Ohms per Square
Standard Thickness 1.1mm
The soda lime float glass is coated with a primary layer of Silicone Oxide (SiO2) and secondary layer of Indium Tin Oxide (ITO).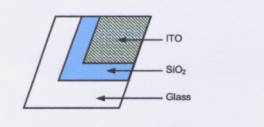 Surface Resistance:- 4 or 12 ohms per square
Coating Thickness:- 150nm
Heat Resistance:- 300 °C for 30 minutes
Humidity (60°C/90% RH) . No effect
Adhesion to glass:- MIL M-13508 4.4.6
Abrasion Resistance:- MIL C-675-A 4.6.11
MIL E-12397-B
Transmittance at 550nm:- 89%
Colour:- Clear
Reflection:- < 4%
For polished ITO glass, the roughness is about 1nm.
For un-polished ITO glass, the surface roughness is about 2nm.
The average RMS roughness of ITO is 1~2nm.
Termination Method
Direct contact can be made to the conductive surface by suitable conductive fabric
over foam gasket, silver loaded silicone gasket, copper tape or silver epoxy painted
bus bar. Do not use gaskets containing metal which can damage the coating or place
the window directly against a hard plastic or metal surface
Product Range
Size:- on request
Thickness:- 0.1mm to 6.0mm un-laminated
Greater than 2.5mm laminated
Front Finish:- Plain Glass
Anti-Reflective (MLAR) coating
Non-Glare (VRD 140) etch
Edge Form:-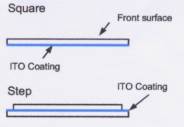 Design Options
Constrast Enhancement and privacy filters
Colours and neutral density tints
NIR blocking filters
Non Standard ITO Coatings on Glass
EMI-ITO windows are either un-laminated or fully laminated glass filters with various
ITO coatings of between 5 and 500 ohms per square. Windows are available to order
as finished windows.
Our laminated versions offer greater strength and options for front surface treatment and edge profiles.
Substrates Available
Selected High Quality Float Glass

Polished Glass

Borosilicate Thin Glass

Other available on request
Thicknesses available
Also available :
Patterned ITO Glass and Plastic
ITO Polycarbonate & Polyester Film
ITO Coatings
Visiontek Systems Ltd offers a range of ITO coatings for EMC, anti static and heater window applications. Our ITO coatings can be applied to polycarbonate, acrylic, glass
and a range of transparent films. The coating resistance can vary between 10 ohms
per square to 1000 ohms per square depending on the application. Quotations are available for specific applications
Flex-Shield 15 Conductive Film

Flex-Shield is a vacuum deposited multi-layer coating on flexible clear polyester film. It

is available on 175 micron thick polyester and in a conductivity of 10 to 15 ohms/square,

The coating is optically neutral and have high visible light transmittance. Flex-Shield

15 has visible light transmittance of > 74%

Flex-Shield is stable in humid environments, showing a resistivity change of only 1%

when exposed to 24h 95% RH at 49 deg C, and good thermal stability to 80 deg C , resistance change of 2% after 72 hours at 80 deg C.

The minimum bend radius of the product is 3mm but somewhat higher if the conductive coating is on the outside of the bend.

Flex-Shield is available in sheet form, as die cut shapes or as rolls up to 1.2 m wide and 1000m long. Flex-Shield can also be supplied with the additional options of a peelable protective film on both faces and an optically clear pressure sensitive adhesive on the non-conductive face.

Although Flex-Shield has been developed for the EMC Shielding market other applications include:-

Touch Panels, Membrane Switches and Transparent Heating Elements.